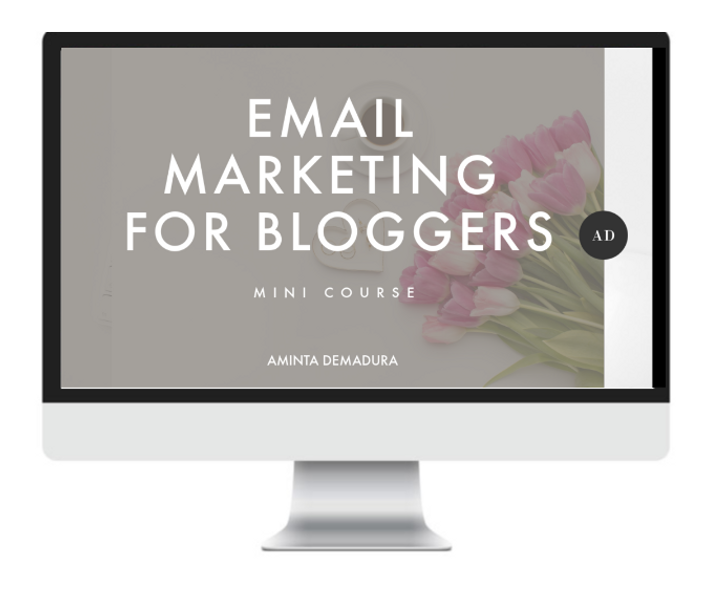 Email Marketing for Bloggers
How to set up your email marketing system and write incredible emails your readers will love
What if you knew exactly how to set up your email marketing campaign and what to send to your readers to grow your authority and income, and the money actually started rolling in?!
To be quite honest...
That can totally happen!
I know email marketing feels soooo complicated right now, but it's a skill you can learn just like anything else in life.
Are you feeling any of these vibes…?
Feeling like setting up your email campaign is just WAY too complicated.
There are so many different email marketing platforms out there, and you might be wondering which one you should choose... and how hard it will be to set up. Then you've got to figure out how to install your forms, make sure they connect to your email list, and figure out how to make sure they actually send your freebie! What a nightmare.This is exactly why so many bloggers never start and leverage their email lists... and they miss out on 80% of their blogging income potential.



Feeling unsure of what to send your list, and when to send it.
Everybody tells you to "grow your list!!!!" until they are blue in the face, but what on Earth do you actually send? And when? You might be wondering what it takes to write great emails, and what the point is in the first place. Having a proper email structure is so important to engaging your readers (and making sales!) but most bloggers struggle deeply with knowing what exactly to send each week... so they procrastinate and their hard-earned list goes cold.
Not knowing how to make all of your forms, sequences, and downloads work in harmony together.
Do you feel a headache coming on just THINKING about how to make sure all the "back end" stuff connects together properly? You know that an email marketing system is one big ecosystem of forms, sequences, broadcasts, and freebies that all need to play nice together, and it's majorly overwhelming...
If you're feeling ANY of these, know that you aren't alone and you are in the right place!
I went from having NO real email list to creating a simple yet outrageously effective email marketing system that takes care of my readers, reduces my workload, and makes me sales... every single day.
As a newer blogger, I was in the same boat as you. I had no idea how to set up an email marketing campaign! (And to be honest, I didn't always know WHY it mattered so much.)
The whole thing just seemed a little extra to me. Couldn't I just put my digital products on my blog posts and skip this whole email business?
In reality, I was just scared of the learning curve and didn't know how to create a gold-mine email marketing system that would eventually change my business at it's core.
You probably know what it feels like to harbor that feeling of dread, KNOWING that you need to "start doing email". The money is in the list, as they say.
I can completely relate, because I've been there too! 😭 This stuff ain't easy when you're on your own.

I wish I could say that I whipped together a killer email marketing campaign overnight, but unfortunately I didn't have any help and it took a long time for me to figure it all out!
Every time I figured out one piece, it seemed like another two problems cropped up that I needed to solve. I don't miss that phase at all.
Slowly, week by week, I figured out more of the steps needed to get my system set up and to consistently send out great emails that my readers LOVE getting.
It was a huge learning curve for me, and I put literally thousands of hours of practice into figuring out how to make the tech work, how my readers wanted me to write to them, and how to make the best use of sequences and broadcasts so that my list felt loved and supported.
But once I did, things started to get so much better!
I started getting replies to my emails THANKING me for sending them such great emails.
A few readers emailed me back and said I'm one of the very few they haven't unsubscribed from, because they look forward to reading my emails so much.
And many of these readers purchase my products because my emails are engaging and useful and they want to know what else I have to offer.
Running my business has become so much less stressful and more rewarding now that my email system is taking care of the hard work.
---
I can take time off to be with my family or go on vacation without worrying that my readers won't hear from me (in fact, my business hums along as usual even when I'm away!)
I get so many "love letters" back from my readers, which makes me feel all warm and fuzzy (AND tells Google's Gmail that my stuff rocks! Yes, they are watching that.)
My new system is has reduced my workload like crazy, because most of my emails are automated and will be sent out without me needing to be at the computer. (I used to spend several HOURS per week writing one-time emails to send out 😱)
Introducing...
Email Marketing for Blogger Workshop
---
The Ultimate Easy-to-Follow Framework for Setting Up Your Convertkit Email System Fast, Building Your Email List, and Writing Emails Your Readers Can't Wait to Receive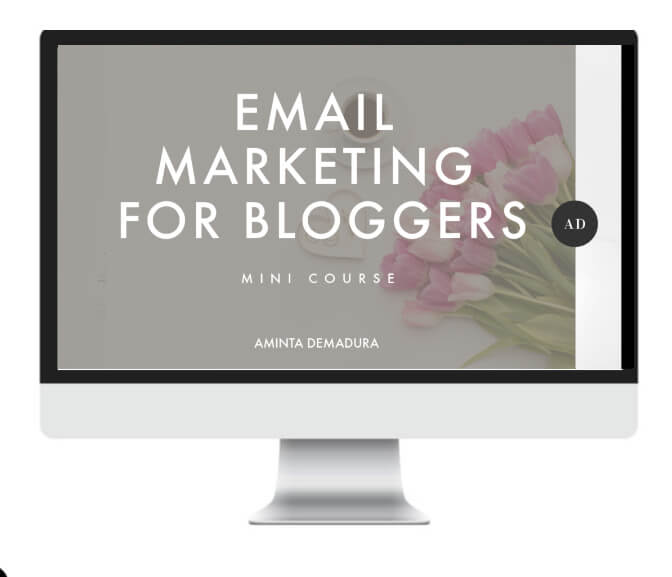 Take a peek at what's inside...
Course Curriculum
Email Marketing 101
Available in days
days after you enroll
Creating Email Forms and Landing Pages
Available in days
days after you enroll
Growing Your Email List
Available in days
days after you enroll
The Email Marketing for Bloggers Workshop is for you if...
You're totally freaked out thinking about having to set up your email marketing system, and you know some guidance will relieve the fear.
You want to create some fantastic freebies to draw in your readers, but it seems so complicated.
You need step-by-step video footage of how to create forms, sequences, broadcasts, and landing pages that work together.
You want to know what to write and when to send your emails with some straightforward and clear advice.

You're trying to figure out how email marketing fits into the "big picture" of running a profitable online business.

You want to learn how to write killer emails that get your readers engaged and primed to buy from you
Frequently Asked Questions
When does the course start and finish?
The course starts now and never ends! It is a completely self-paced online course - you decide when you start and when you finish.
How long do I have access to the course?
How does lifetime access sound? After enrolling, you have unlimited access to this course for as long as you like - across any and all devices you own.
Are refunds available if I'm not happy with the course?
Yes! This mini course comes with a 30 day money back guarantee. All I ask is that you show that you've put in the work and the course didn't work out for you, and you'll receive a full refund right away.
Is this course suitable for Squarespace or Wix users?
No. This mini course is designed for Wordpress bloggers. Because setting up the back end of email systems can vary so much between different blogging platforms, we'll be focusing only on Wordpress in this course.
Do I need to buy any other software to use with this course?
In this course I recommend and use Convertkit in all of the video modules. Convertkit is the email marketing system I use in my business, and I believe it's currently the best out there for most bloggers. Convertkit has a free plan that for up to 100 email subscribers that you can get started on, and after that you'll need to upgrade to one of their paid plans.