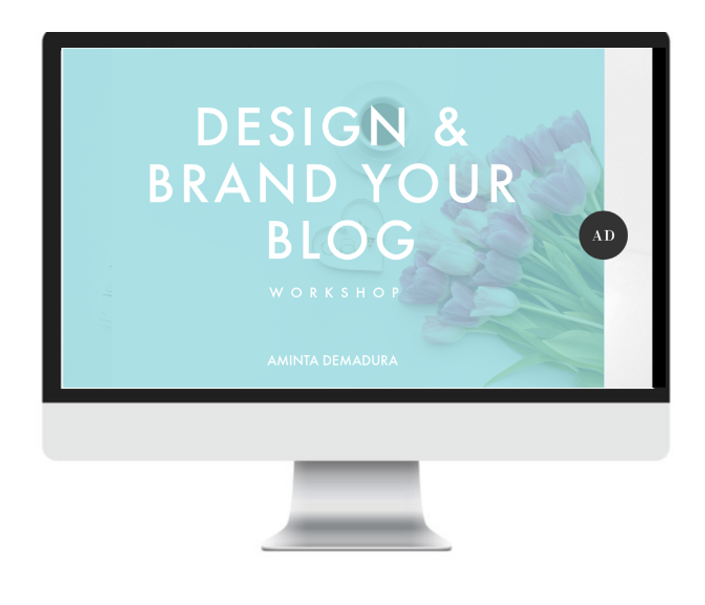 Design & Brand Your Blog Workshop
How to design your blog, create a brand, and get on with it!
Wouldn't it be amazing if you were able to quickly and easily design your blog just the way you wanted it, and it wasn't a total pain in the ass to do?!
So here's the deal...
It's totally possible!
I know you're really struggling with all of the tech and options for your blog design right now (I know, that stuff is a nightmare!), but I've found a better way for you.

Do some of these totally feel like you right now?
Feeling like the tech side of blog themes is going to be the end of you.
Most blog themes and builders are freaking COMPLICATED! There are thousands of themes out there, some great ones and zillions of terrible ones. It can be so tough even choosing the right one for you, and THEN you have to design the darn thing (a whole 'nother ballgame!)
You want a simple and beautiful site that fits your vibe and feels like "you". But you have to figure out how to move page elements around, create favicons, logos, images, and so much more. It's a huge and overwhelming job! And in the back of your head you know... the real work doesn't even begin until your blog is designed and you can start writing content!
The hardest part is that tons of bloggers never figure out how to get their blog just the way they want it (and many end up hiring a super expensive web designer to finish the job!)




Feeling like your blog never looks "right", and you don't know what to do.
Maybe you've already put in hours upon hours watching tutorials and trying to design your blog, and it still doesn't look right! Or maybe you've gone through a handful of themes that are SUPPOSED to be easy to use... but they really aren't.
You wonder how you'll ever be able to design your blog the way you want it, and how long it's going to take. What a headache! If this is you, I promise you aren't the only one. This is probably THE biggest hurdle for new bloggers there is.
Wishing you could simply "plug in" your own content into a theme and be ready to go.
Why does designing your blog have to be so hard, anyway? Isn't there a way you can quickly and easily insert your own content into a nice template and be done with it all? You just want the set up part to be done and to look great!
You know that once your blog is designed with the proper pages, logos, and branding elements you need, THEN you'll be ready to start writing and building your new business. If you are itching to get to that point, I totally get it. I was too!

Feeling like creating a brand you really love is so far out of reach.
You hear other bloggers go on and on about how important it is to "build a brand", and it feels overwhelming. You wonder how you'll ever coordinate the colors, fonts, vibe, and everything else that goes into branding... and you aren't a graphic designer! You also wonder where to even FIND these branding elements and what to do with them once you do.
How do you make your blog stand out in the sea of competition that is out there? With thousands of new people starting blogs every single DAY, you know it's important that you get off on the right foot (and fast!)

If ANY of these are you right now, you're in the right place!
I went from a terrible blog design and NO brand to designing a clean and beautiful site that gets complements left and right... and it wasn't that hard!
When I was first starting out, I was right where you are. As a beginner, my blog looked pretty generic and lacked the sort of clean and chic vibe I was going for. I couldn't seem to customize much of anything, and it really made me feel uninspired to build my business on it.
It wasn't that I hadn't put in the hours to get the design right, but the theme I was using was seriously lacking in design functionality (and I spent over $200 on it!)
I just didn't know what it was going to take to finally get the blog design and brand I'd always wanted (and I couldn't pay a designer $5,000+ to do it for me!).
You probably know what that feels like, struggling to get the theme elements to line up, to get your colors right, to figure out your logo, and to really get the whole thing right.
Man I have so been there and I totally understand where you're coming from. This stuff is a major pain in the ass sometimes.

My ticket out of that technical nightmare was discovering a drag and drop builder that let me literally drag and drop any element I wanted ANYWHERE on the page. Life changing!
Once I installed that simple builder, I had my new blog designed the way I wanted it in ONE DAY.
Hallelujah!
I couldn't believe that I had put in dozens of hours on the old platform, constantly frustrated and nearly in tears... And this new method got the job done in a day.

Once that was finished, I felt immensely relieved!
Then I started getting emails from my readers COMPLIMENTING my design and asking how they could get theirs to look like that too.
Many of people told me they found me on Pinterest, and they loved how easy it was to get around my blog and binge read my content!
The best part for me though?
I started feeling inspired to work on my business again, because I wasn't ashamed of how my website looked.
My business has felt so much more inspiring and fun since I've built the brand and design I REALLY wanted.
---
I never worry about friends and family finding my blog and judging the way it looks.
I get so much praise and positive feedback from my readers about my whole style and vibe (and these readers CONNECT with my message even more because of it).
My brand helps my readers feel comfortable buying from me, because they know I take my work seriously.
Introducing...
Design & Brand Your Blog Workshop
---
A Quick and Easy Framework for Simplifying Your Blog Design and Crafting A Killer Brand That Makes YOU Look Amazing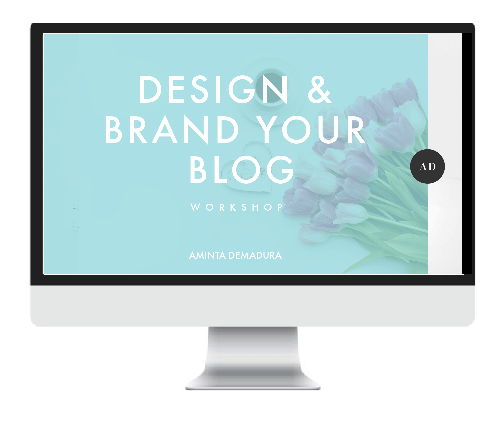 This 11-part workshop will show you how to use the super easy drag-and-drop Thrive Architect theme builder to easily create a beautiful blog design in no time. We'll also cover how to create a brand you LOVE and feel proud of right from the start, so your business is ready to receive new potential customers and share your message with the world.
Take a peek at what's inside...
Course Curriculum
Navigating Wordpress
Available in days
days after you enroll
Your Blog Theme
Available in days
days after you enroll
Designing Your Blog
Available in days
days after you enroll
The Design & Brand Your Blog Workshop is For You If...
You've been seriously struggling to get your blog looking the way you want it.
You've gone through a bunch of themes and nothing seems to work quite right..
You're want an inspiring brand that feels like "you" and that your readers LOVE.
You feel like all of this is too technical and complicated and you need help, stat!.
Frequently Asked Questions
When does the course start and finish?
The course starts now and never ends! It is a completely self-paced online course - you decide when you start and when you finish.
How long do I have access to the course?
How does lifetime access sound? After enrolling, you have unlimited access to this course for as long as you like - across any and all devices you own.
Are refunds available if I'm not happy with the course?
Yes! This workshop is guaranteed for 30 days from your date of purchase. All I ask is that you show evidence that you've put in the work and it didn't work out for you, and you'll receive a full refund easy-peasy.
Do I need to buy any other software to use with this course?
Yes. This course teaches you how to use the Thrive Theme's suite of tools to easily design your site through drag-and-drop technology. Not only does their product come with a theme builder, but you'll also get access to their other drag and drop tools like a quiz builder, email marketing forms, testimonial display, commenting system, landing page templates, and more. All of these products are beautifully designed, fully drag and drop, and are crazy easy to customize. I've built my entire business around this suite of tools, and it's the only one I'd recommend to my family and friends.